Automatic Cat Water Fountain
ATTRACT YOUR CAT AT THE FIRST GLANCE
 The beautiful design and flowing water fascinate the animal, and even the fearful pet will never be frightened as it runs completely silently. The flowering fountain works with running water to encourage your pet to drink more.
3 DIFFERENT SETTINGS FOR WATER FLOWING
Gentle flow; Bubbly water; Quiet flow. Assemble the drinking fountain, put the filter inside and fill the water in the well. Set the flower or not as needed.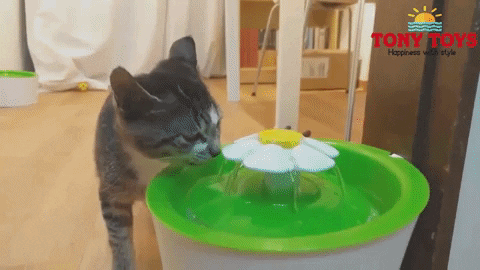 COMPACT AND EASY DRINKING 
During work hours, never need to worry about the cats of not drinking water. You also do not need to put more bowls or faucets. Simply use our water fountain to ensure your cat drinking with higher frequency. Also, the 1.6L capacity is suitable for short trips.

BETTER WATER QUALITY WITH COAL FILTERS 
The filter cleans and softens hard water and simultaneously filters hair, sediments and impurities. The odors of the water can be eliminated and the taste is improved, which makes pets to drink more.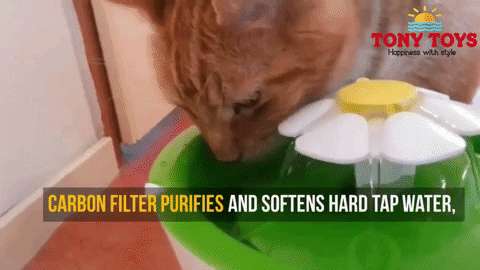 EASY CLEANING FOR HEALTH OF PETS
The drinking fountain measures 19cm in diameter and 16cm in height. Pleasant surface for whiskers and comfortable height is ideal for kittens and adult cats. Just take the fountain apart and clean it easily and quickly. This flowering fountain contributes to the health and well-being of your cats and dogs.
INCLUDES:
1x Cat Fountain
1x AC Adapter
1x Charcoal Filter
1x Instruction Manual
FREE WORLDWIDE SHIPPING!
Please allow 2-4 weeks for delivery to the United States, Canada, United Kingdom, Australia, New Zealand, and all European Union Countries.
Please allow 2-6 weeks for delivery to the rest of the world.
GUARANTEED SAFE CHECKOUT